The Belmar Parade Day Mile – Binghamton, NY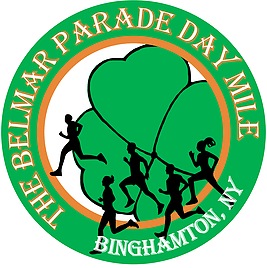 The course follows the Parade Route for the St. Patrick's Day Parade in Binghamton, NY. The race starts immediately before the parade, so there is a great spectator turnout!
​
The race route starts at the Broome County Public Library and finishes in front of the Belmar Pub. Slight upwards grade in the mid-course, but basically flat.
12:50PM – Elite Men Heat
12:55pm – Elite Women Heat
1PM – Open Heat
START LINE: Broome County Public Library (185 Court Street, Binghamton NY 13901)
FINISH LINE: Near Belmar Pub (95 Main Street, Binghamton NY 13901)