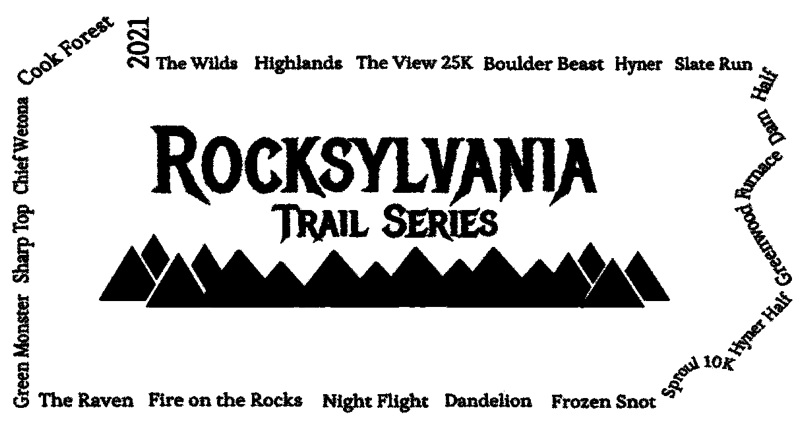 Beginning in 2018, the central PA trail running scene took on a brand new look, breaking away from the old Trophy Series to form the new Rocksylvania Trail Series. Now we're back at it for 2021, amping this new series up to include 20+ different courses, all teaming up together to showcase some of the best trail races in the state.
The 2021 series includes 20+ PA trail races broken down into four divisions based on race distance. These are the divisions:
Division 1 – 10K
Division 2 – Half Marathon
Division 3 – 25k
Division 4 – Ultra
The four divisions will give runners the option of concentrating on distances that are more to their liking. You can run as many or as few races as you'd like, but the more races you run in one particular division, the better your chances are in winning a prize.
Scoring: The top finisher in each age group will earn 25 points per race. Second will earn 24. Third will earn 23 and so on. The individual in each age group that has the HIGHEST point total at the end of that series will be crowned the champion. An individuals best 5 races will count toward overall points. Max score will be 125.   
Falcon Timing will be scoring each runner based on their age group finish at each race and prizes will be awarded to the top 3 overall males and females of each age group at the end of the year. Runners must complete at least 4 races to win. Awards will be given out at the end of the year at an awards banquet at New Trail Brewing Company in Williamsport (TBA).
In case of a tie, the runner who has more head-to-head wins will earn the prize. If both runners have 4 finishes in that division and are still tied, it will go to the runner with the most Rocksylvania races completed.
To earn Rocksylvania swag, a runner must either run all races in one division or finish at least 8 total races in the Series. Good luck everyone!!!!
Below is a complete list of the 2021 Rocksylvania Trail Series races: 
10K Division
The Frozen Snot 8.5 Miler – February 20
Fire On The Rocks – March 13
Night Flight 10K – April 3
Chief Wetona 7-Miler – May 16
Smith Knob Scramble – June 12
Sproul 10K – June 19
Dandelion 10K – September 4

Half Marathon Division
The Frozen Snot 13.5 Miler – February 20
Greenwood Furnace – May 2
Chief Wetona 14-Miler – May 16
Hyner Half – August 28
Dam Half – September 26
The Raven – October 3
Highland Scramble – October 31
Slate Run 25k – June 5
Sharp Top 25k – June 26
Cook Forest 25K – August 21
Green Monster 25K – October 10
Wilds 25K – October 24
The View 25k – November 7
Ultra Division
Hyner 50K – April 24
Sharp Top 50k – June 26
Boulder Beast – September 18
Green Monster 50K – October 10
Wilds 50K – October 24
SPONSORED BY: