Sharp Top 25k / 50k – Masten, PA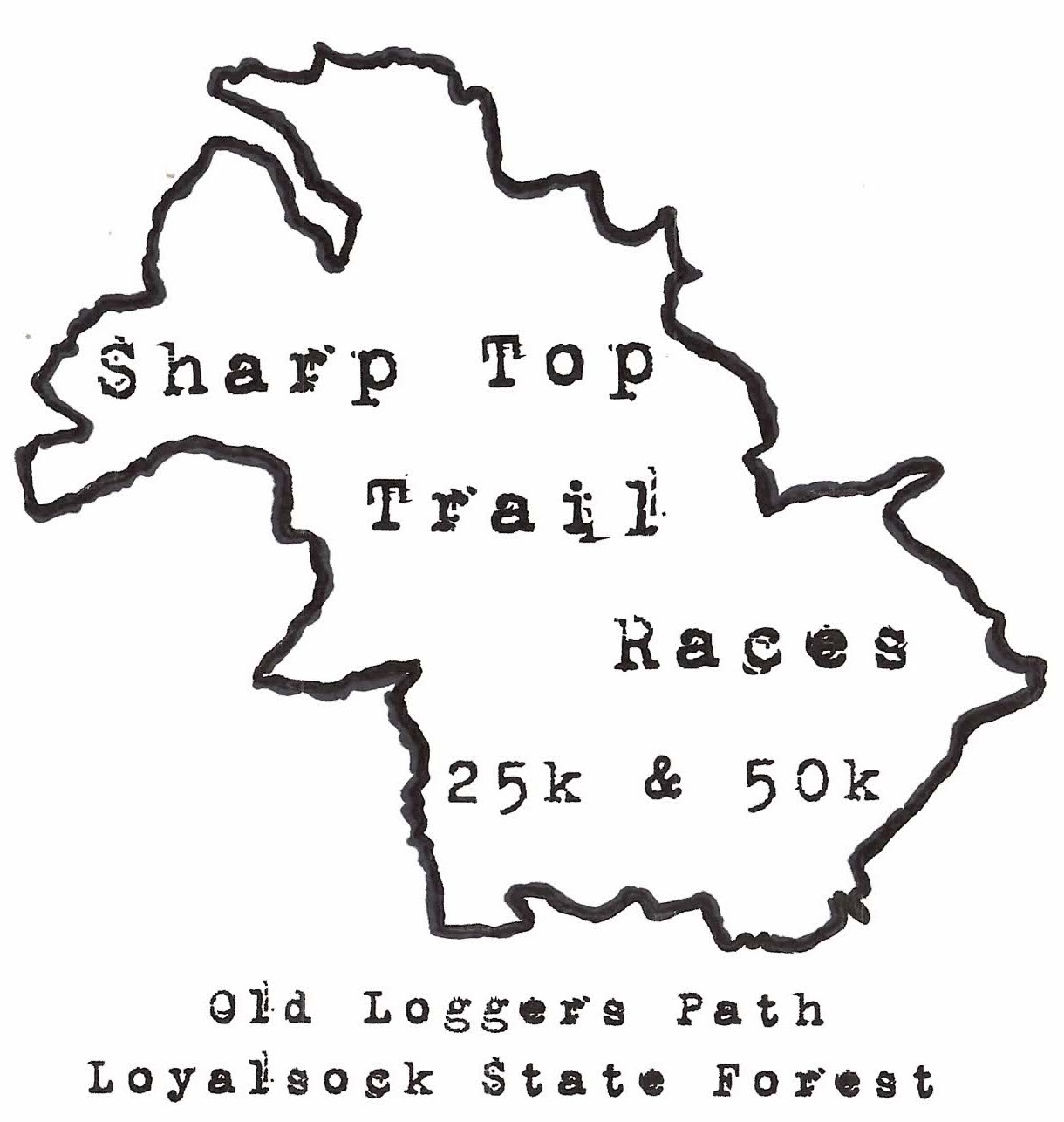 About the Course
Sharp Top 25k and 50k races utilize the Old Loggers Path in northern Lycoming County. The Old Loggers Path is a 27-mile loop with its trail head in the ghost town of Masten, Pa. The 50k utilizes the entirety of the Old Loggers path with additional trails to bring the race to the 50k mark. Elevation is 4,800 ft and the course is almost entirely trail. The highlight of the course is the namesake of the race, the Sharp Top Vista. At 2,080 ft above sea level, be sure to take some time at the aid station and take in the extensive view southward over the Allegheny Plateau.
The 25k course follows the 50k course on the Old Loggers Path, but will split to make a shorter loop ending at Masten while still affording participants the opportunity to experience Sharp Top. In addition to experiencing Sharp Top Vista and several other scenic views participants will enjoy sections of the course that allow for amazing views of Pleasant Stream, Long Run, Doe Run and Rock Run throughout the course. You will be crossing Pleasant Stream and your feet will most likely get wet!
The Start/Finish
The race headquarters and start/finish will be located in the ghost town of Masten. Yes, a true ghost town. Please don't expect to have cell service. This race is completely off the grid with no electricity or running water available. While this adds complexity to the race, we are very thorough in our planning and will have adequate facilities and potable water along with a great post-race party.
Accessing the Start/Finish (AKA Masten):
The best access to Masten is from Rt 87 North out of Montoursville. It is approximately 1 hour from Montoursville to Masten, with the last several miles on dirt road. There is plenty of parking at Masten, however parking is in a mowed field so plan accordingly. This is not a sports car friendly race!
WE CANNOT EMPHASIZE ENOUGH that the easiest way to access Masten for those traveling north is from Rt. 87. Flooding in 2017 took out major sections of Pleasant Stream Road, the major access point from Rt 14. Do NOT attempt to travel to Masten from PA Route 14 via Pleasant Stream. Those traveling from the north should have no problems accessing Masten from 154. We will be sending detailed directions to those who register for the race as race day approaches.
Accommodations
Primitive camping is available in Masten. This is not an RV accessible area. DCNR does not require a permit for primitive camping at Masten for campers spending one night. Sites will be first come-first served; however with approximately 40 sites, we should be able to accommodate all campers. There appear to be several Airbnb rentals within 30 minutes of Masten, however please book at your own risk. We are not endorsing them for the race, just letting you know they exist. Major hotel chains of all varieties can be found in Williamsport, an hour from the race start/finish.