Maple Madness 5k / 10k – Warren Center, PA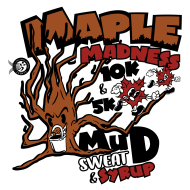 Do you love trail races? How about maple syrup? You're in luck, because we have combined the two! There will most likely be some mud, too, which is certain to get yourself into a sticky situation. When you combine all three: Trails, syrup and mud, you get "Maple Madness: Mud, Sweat, & Syrup"!
Choose from the 5k or 10k distances, both starting and finishing at the Dewy Meadows Maple Farm sap house (or "sugar shack", depending on where you were born). Both courses will have a mix of short dirt road sections, grueling climbs, single track, field crossings, logging roads, and whatever else we decide to throw at you. It is sure to be a challenging and super fun course, no matter which distance you choose.