Lewisburg Youth Triathlon – Lewisburg, PA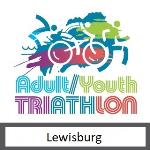 The kids' Triathlon was started in 2007 from an idea presented to the triathlon committee by Dr. Larry Winans. It was an immediate success and wonderful addition to the adult event. The kids' tri is for children ages 7 to 14 and is meant to introduce youngsters to the sport of triathlon. The event in non-competitive, however it is chip timed. All participants receive a medal and those registered by July 29th will receive a t-shirt but ALL will feel the satisfaction of finishing!
RACE BEGINS: 6 PM
MANDATORY RACE MEETING
The MANDATORY race meeting will be held at 5:50 pm in the pool area. One parent/guardian and your child MUST be present. We would like to start the event as soon as the meeting is over, so please be on time.
Ages 7 – 9: (Kids will wear PURPLE shirts — if registered after the t-shirt cut-off, please plan on having your child wear PURPLE)
Swim: 25 yards
Bike: Approximately .9 miles
Run: Approximately .25 miles
Ages 10 – 12: (Kids will wear YELLOW shirts — if registered after the t-shirt cut-off, please plan on having your child wear YELLOW)
Swim: 50 yards
Bike: Approximately 1.8 miles
Run: Approximately .4 miles
Ages 13 – 14: (Kids will wear GREY shirts — if registered after the t-shirt cut-off, please plan on having your child wear GREY)
Swim: 100 yards
Bike: Approximately 2.7 miles
Run: Approximately .6 miles