Harper's 10k & 2-Person Relay – Binghamton, NY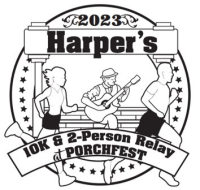 On August 27th, Harper's 10K and 2-person relay races will be held on the westside streets of Binghamton.
This race has always delivered a quality event to the running community. This event will host an epic post race party including food, beer and live music for runners to enjoy.
Regarding the race course: It is mostly flat and fast. It may even offer a PR opportunity! The first leg of the relay is 3.5 miles with the second leg being 2.7 miles.
The Event:
Race time is 8:00 am with a mass start format.
Awards:
10K Race:
Custom Porchfest pottery by Danielle Vick Studios will be awarded to the Top 3 Male and Female finishers. Custom Porchfest mugs to the Top 10 Age-graded Male and Female finishers.
Relay Race:
Custom Porchfest mugs by Danielle Vick Studios will be awarded to the Top finishing teams in the following categories:
Men Open, Women Open, Mixed Open
Family Divisions: Married couple, Father/Daughter, Father/Son, Mother/Daughter, Mother/Son