Empire Road Race Series 10k & Harper's 2-Person Relay – Binghamton, NY
August 29, 2021 @ 9:00 am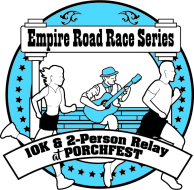 The Empire Road Race Series 10K and Harper's 2-person relay races will be held on the westside streets of Binghamton. Race proceeds will be used to support the ERRS and Harper Stantz Memorial Scholarship.
This race is the 4th event in the Empire Road Race Series and has always delivered a quality event to the running community. 
Regarding the race course: It is mostly flat and fast. It may even offer a PR opportunities! The first leg of the relay is 3.5 miles with the second leg being 2.7 miles.
The Event:
Race time is 9:00 am with a mass start format.
SWAG:
Register by midnight August 7th to receive the race tee shirt.