Strides For SCI Research 5k / 10k – Montoursville, PA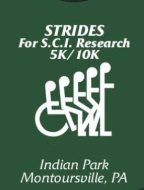 There will be pre-registration the day of the event starting @ 7:30 AM. Medals will be handed out to the Top Three runners and Top walker in each age group. Timing will be done by Falcon Timing.
All money raised will be donated to the Reeve Irvine Research Center and Research For Cure. The center is named after Christopher Reeve and his family and their goal is to cure paralysis after a spinal cord injury. The money raised via the event will go directly to Spinal Cord Injury Research and human trials. The research has shown dramatic improvements in animal studies thus far. The hope and goal is to fund the ongoing trials on humans. The reason I am organizing the event is because I had an injury that has left me a Quadriplegic, paralyzed from the chest down.
If you have any questions about the event or how to register, please call Jay Harner 570-447-3505 or email him [email protected]