Strawberry Shake 5k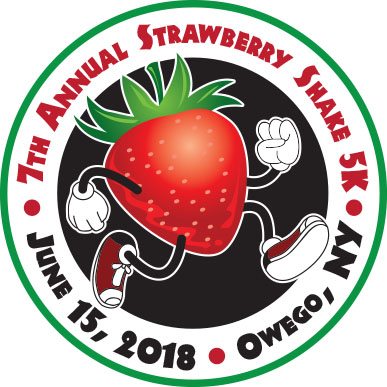 Race Date: Friday, June 15
Kids' Run begins at 5:30 pm; 5K Run begins at 6:15 pm.
Deadline for Pre-Registrations:  Thursday, June 14 at 11:59am.  After this time, no registrations will be accepted until Race Day where you can register from 2:00 pm – 5:15 pm for the Kids' Race and 2:00 pm – 6:00 pm for the 5K at the race site
Entry Fee: 5K Individual Pre-registration:
$25 for individuals
Teams of 4 or more: $20 each
1 Mile Kids' Run (ages 3-10) $10 each
Price increase after pre-registration ends:
5K Individuals: $30
Teams of 4 or more: $25 each
1 Mile Kids' Run (ages 3-10) $15
START/FINISH: Tioga County Office Building Property, Academy St. & 56 Main Street, Owego
Awards: 1st, 2nd and 3rd Place prizes in the Male and Female categories will be awarded for the 5K Run. Prizes will also be awarded for the Kids' Run.
Giveaways: T-shirts, water, fruit, food, coupons and lots more will be offered to runners post-race.
Parking: On-site and on-street parking will be very limited. Parking is available at Marvin Park in Owego. For more information go to http://www.owego.org/festival-parking.
Benefit: *ALL PROCEEDS WILL BENEFIT THE OACSD CROSS COUNTRY TEAM AND OTHER OACSD YOUTH SPORTS.