Starry Night Danville
September 9, 2017 @ 5:00 pm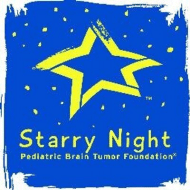 Evening run/walk fundraiser
Each step of the 28,000 foot course (or optional one mile walk) represents an American child living with a brain tumor diagnosis. Won't you help fund critical research and family support for local children? The highlight of the evening is a lantern-lighting ceremony to symbolize hope for a cure and to honor our stars, children with brain tumors.
Course Description: 8.5k loop. Mostly flat, hard packed gravel/grass rail trail with a short on-road connector. Leads through a beautiful deciduous forest high above Mahoning Creek. Scenic. Occasional steep drop-offs. Can be muddy if recent rain. Mostly shaded.
Day-of registration will be $30.
To honor our "Stars", children with or survivors of pediatric brain tumors (and their families) will participate for FREE! They will also have a VIP tent.
Lanterns (for honor ceremony at conclusion of event) will be provided for participants , volunteers and Stars/families. They are available for purchase for spectators.
Food, raffles and entertainment provided!
For more information about the Pediatric Brain Tumor Foundation visit https://www.facebook.com/starrynightdanville/