St. Patrick's Day 4-Miler – Binghamton, NY
March 12, 2022 @ 10:00 am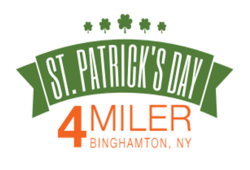 Over the past 4 years, the race has raised over $22,000 for the local food banks and the Shower for Hope Program. This year the net race proceeds will be used to continue support the SHOWERS FOR HOPE program. People who are homeless or don't have access to showers will be able to take them, thanks to a group of volunteers and churches led by St. Patrick's Church in Binghamton.
The local running community has rated this race as having the best post-race experience, above average SWAG and a great value. The St. Pat's race is also the first race in the 2022 Empire Road Race Series presented by Visions Federal Credit Union.
Race starts at 10 am.