Montour 24 – Danville, PA
June 26, 2020 @ 7:30 pm

-

June 27, 2020 @ 7:30 pm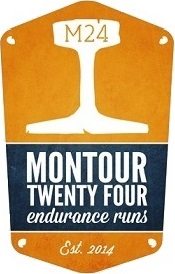 THIS EVENT IS CANCELLED FOR 2020
Event Dates: Friday June 26, 2020 – Saturday June 27, 2020
Bib Pick Up Time: Starting on Friday at 5:00pm
Start Time: Friday at 7:30pm
End Time: Saturday at 7:30pm
NEW COURSE LOCATION
As the race evolves, it's fun to reminiscence on some of the fun the original course. A lot of you will remember the stream crossing (aka Dave's Rucky Chucky), the climb (aka Mandatory Walk Break or Dave's Heartbreak Hill), and the upper rail trail (aka The Backside). We'll miss the old course but the new location will prove to be a very nice improvement! The new 4.0 mile course will wrap around the picturesque Lake Chillisquaque at the Montour Preserve in Danville, PA. The park has paved parking, bathroom facilities, multiple pavilions, and room for camping. We think everyone will be very happy with the change! Learn more about the new venue at MontourPreserve.org.
RACE OVERVIEW
The Montour 24 offers a 24-hour individual endurance trail run or a four-person relay 24-hour endurance trail run on a fully supported loop course at the Montour Preserve in Danville, PA. Food and water will be available every 4 miles located just past the start/finish line along with an aid stop a little past the halfway point on the course. The aid station pavilion will be fully stocked and will include a variety of foods such as fresh fruit, chips, energy bars, sandwiches and snacks. We will also rotate special items such as grilled cheese, pierogies, and soup throughout the race day. Relay team members will have access to the aid station while they are running but all teams should plan on bringing their own food to eat while they are waiting for their turn to run again.
COURSE DESCRIPTION 
The 4.0 mile loop course is on low-technical single track. The trails are wide enough to run next to another runner or easily pass them throughout most of the course.