Magical Miles For Magical Smiles Superhero 5k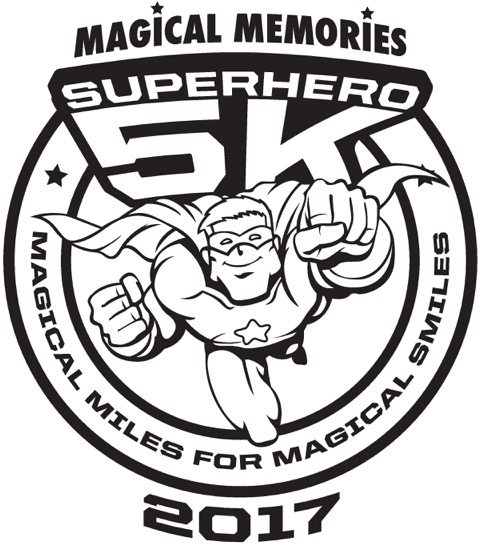 Magical Memories, is a 501(c)(3) non profit organization that " strives to make Magical Moments and Forever Memories" happen in the lives of local children who have been diagnosed with a life threatening or terminal illness or disability that takes a toll on what most of us take for granted as a normal childhood.
At Magical Memories events, the children don't have to feel different because they don't have hair or are in a wheelchair etc, because many others who attend share similar issues and this day is made to be about them. This event is 100% and only possible through community support and donations. All donations are tax deductible. Magical Memories runs 100% on volunteerism so all of our donations goes directly to making memories for these children as we have NO overhead for salaries to those that run this organization.
This year we will be having a Hero's Mile where we will have signs of "YOUR" heros along a mile of the race. Sign will be personalized with your information, they can be "In Honor of" or "In Memory of" someone special in your life. Signs are $20 and yours to keep at the end of the race. Forms must be returned by March 1 in order to receive them in time for the race.
We also have sponsorship opportunities for anyone that would like to sponsor this event. Minimum of $50.00 get your name/logo on the back of the shirt and a free t-shirt and 1 free registration. (must contact Kerry Tilford for free registration 570-337-5640)
Already have plans for this date, NO PROBLEM, do our virtual 5k for $15.00 with free tshirt. Deadline registration for virtual 5K March 1 2017. Run a 5K (3.2 miles) on your own and submit your time to [email protected] Awards for top 3 times
5K – $20.00 with FREE t-shirt for those registered by Feb 14
$25.00 for 5K from Feb 15 – March 30. Online registration ends March 30 at Noon.
Kids Fun Run – $10.00 Free super hero cape to first 100 registered
t-shirt for kids with fun run $5.00 until Feb 14