Lewisburg Frosty 5k – Lewisburg, PA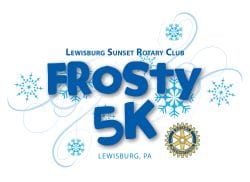 This run/walk is perfect for those adventurous types looking for something healthy and fun to do in the dead of winter to battle the dreaded "Cabin Fever." This is an "All-Weather" event. That mean we go rain, snow, sleet or ice. That's the fun of a winter run!
The course will take you around the historic and beautiful streets of Lewisburg and along the edges of the Bucknell University campus.
The Frosty 5K is just one of many Winter-blues busting events held in Lewisburg on this date. The Heart of Lewisburg Ice Festival is happening over the course of the day. Tons of ice art sparkle in downtown Lewisburg and Hufnagle Park. An ice sculptor will carve large interactive sculptures on site in Hufnagle Park on Friday. The event includes children's games in the park, live musical events, entertainment and dining specials, plus the Polar Bear Plunge into the Susquehanna River and a chocolate lovers festival.
Registration – 8:00 a.m.
Race Start– 9:30 a.m.
Awards – 10:30 a.m.