Johnstown Race, Rock & Rise Full Marathon, Half Marathon & Relay Festival
October 7, 2017 @ 9:00 am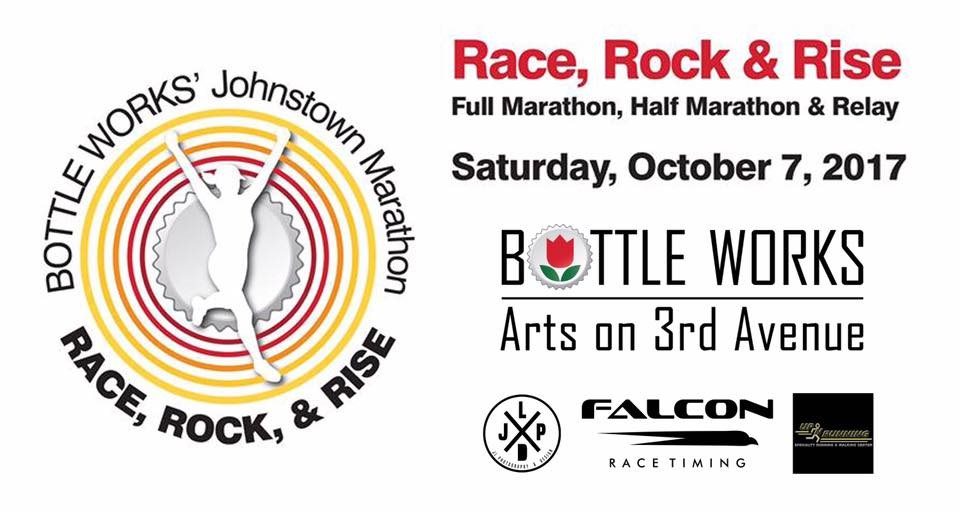 The Johnstown Marathon has been a part of our community for 40 years. On Oct 7, 2017, the Bottle Works brings it back with the Race, Rock & Rise Full Marathon, ½ Marathon and Relay. A new route that traverses the city and its surrounding communities will showcase some of the local trails. Please join us all day Saturday for the race and festival activities into Saturday evening including a band on the main stage and an open jam on an alternate stage.
A block of hotel rooms are available at the Holiday Inn Downtown Johnstown, 250 Market Street, Johnstown, PA 15901. Refer to the Race, Rock and Rise room blocks.

Friday afternoon at 4:00 is packet pickup. Please join us that evening for a Spaghetti dinner at the Bottle Works. Race, Rock & Rise runners eat for free. If friends and family want to join you for the spaghetti dinner, please go to the online registration link below and visit the STORE to purchase tickets. 
Saturday Run Festival
· start pick up begins at 7:00am
· Race starts at 9:00am
· Award ceremonies following the race
· Please join us Saturday afternoon and into the evening for the first annual Race, Rock & Rise Festival. More details for runner specials.
Please join us all day and into the evening Saturday for the Race and festival activities including live music on two stages, headlined by Jim Donovan and the Sun King Warriors (Jim Donovan is the former drummer for multi-platinum selling Rusted Root)
Registration includes race t-shirt & tumbler, Friday spaghetti dinner, post-race food & beverage and Saturday music & festivities.
Race participants can enjoy the full music schedule for $7 including Jim Donovan and the Sun King Warriors. Access THIS LINK and enter the discount code RUNOFF7
Relay exchanges:
Exchange 1: mile 6.75- CAMTRAN – distance 6.75 miles

Exchange 2: mile 12.75 – Jim Mayer Trail – distance 6 miles
Exchange 3: mile 19.0 – Sunnehanna Country Club – distance 6.25 miles

Leg distances:
1: 6.75 miles; major hill at the beginning with mostly road
2: 6 miles; mostly flat with two trails
3: 6.25 miles; two major hills
4: 7.2 miles; mostly flat with downhill portion and trail
The relay participants will get a bracelet to exchange with team members. At the relay exchanges the Bottle Works will have a volunteer. Participants are responsible for parking and arriving on time at exchange points.