Guthrie Gallop 5k / 10k
Register now! Races for the whole family.
• 8 a.m. – 10K 
• 9:30 a.m. – 5K 
• 9:15 a.m. – Kids' Fun Run
Early Packet Pick-up: Friday, May 11, 4:30-6:30 p.m., Guthrie Board Room – School of Nursing (Wilbur Ave.)
This multiple event race includes a 5K, 10K and Kids Fun Run. Proceeds from the 2018 Guthrie Gallop will go towards Guthrie's Sports Medicine Fund and Camp Sensation at Guthrie Towanda Memorial Hospital. The Guthrie Sports Medicine Fund provides educational materials that are used in the prevention and treatment of sports related concussions and injuries. Camp Sensation is a summer camp for special needs children and their siblings run by the pediatric therapy team.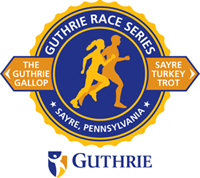 Announcing the 3rd Annual Guthrie Race Series!
An exclusive Race Series gift will be given to participants at the Sayre Turkey Trot 2018 who register for and complete a race distance in both the 34th annual Guthrie Gallop 5K/10K: May 12, 2018 and the 12th Annual Sayre Turkey Trot: November 22, 2018. The race gift must be picked up at the Sayre Turkey Trot on Thanksgiving morning.