Dog Days 5k – Mechanicsburg, PA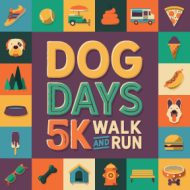 THIS RACE IS CANCELLED FOR 2020
This event is a dog-friendly event and will take place RAIN or SHINE!
100% of the proceeds from the event will benefit the Unleashed Foundation, which is a non-profit organization providing education on responsible pet ownership as well as financial assistance for necessary medical care to pets whose owners cannot afford veterinary care when the alternative is often needless suffering, surrender or euthanasia.
In 2016, Unleashed, previously known as Libre's Gift, was established with funds earmarked for cases like Libre's. His story had touched many and donors were reaching out, eager to support other pets with similar needs. Today, Libre has passed the bone on to the furry friends he has made along the way to continue to cultivate a community that can kick back and go for a run on the sunny days of life, but also provide extra love when gray skies come our way.