Chief Wetona Challenges – Troy, PA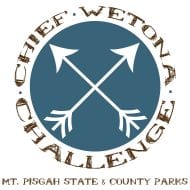 14 Mile race start: 9:30 am
7 Mile starts: 10:30 am
Race is capped at 350 runners – there will be no race day registration!
The Chief Wetona Challenged is comprised of one of two distances. You can choose either the 7 mile course or the 14ish mile course. All participants, family members and spectators are invited to join us post race for a pancake brunch and other delicious treats!
The 7 mile course runs through the beautiful Mt. Pisgah State Park. Trails are mostly double track and elevation gain is around 900 ft total. The first loop takes you around scenic Stephen Foster Lake and the second loop takes you through the woods of the park.
Things become a little wilder on the 14ish mile course. You will start in the state park and then bang it up over, around, down, over and back down the mountain, through single and double track trails of both the state and Mt. Pisgah County parks. Be sure to say "Hi" to the Chief as you grab a quick drink at his aid station!
Proceeds from the race will be donated to local backpack programs – in 2019 donations totaled $3,900 to help feed local kids!