CFJ Carousel 5k – Johnson City, NY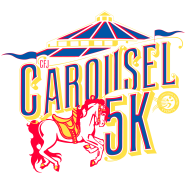 Everyone has a memory of their first merry-go-round. The music, sounds, lights, and colors are something that sticks with you for your entire life. But these amazing machines that bring so many people amusement and joy require a lot of maintenance and care so that future generations can enjoy them just as we have!
The CFJ Carousel 5K is not only a celebration of the carousel but also of the community and all those who keep these childhood dreams alive.
Come one, come all, and join us for this fun, festive 5K supporting the CFJ Carousel and the Johnson City Rotary Carousel Days!
Be sure to stick around after the race to take part in all of the food, fun, music, and excitement in the park!