5k To Thrive – Mechanicsburg, PA
August 31, 2019 @ 10:00 am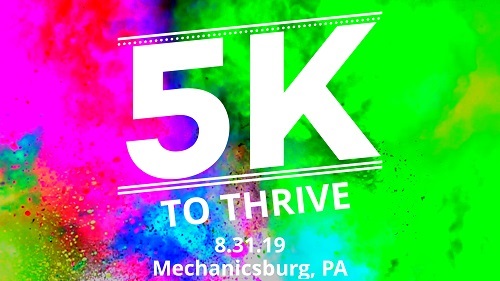 Come be a part of our first ever 5K fundraiser! Located at Vibrant Church in Mechanicsburg, this race will be fun for individuals, groups, families, or youth groups! A mild loop measuring about 1 mile in length will be traveled for the duration of the race, surrounding a wonderful playground, volleyball court, pavilions, and plenty of space for kids to run and play! And attention all you serious runners: our race will be officially timed by Falcon Race Timing, and times will be uploaded to Athlinks! So whether you want walk or run, try hard or just have fun with friends, this race is a good fit for you!
The 5K (3.1 miles) will begin with a welcome at 9:30am, race commencing at 10am. Kids 11 and under can compete in their own 1K (~0.62 miles) race at approximately 11am!
And guess what? All proceeds go directly to furthering the ministry of Salt 'n Light! As a non-profit organization, we heavily depend on donors and partnerships to fund our events so we can continue to reach youth with the Gospel of Jesus Christ! You can raise extra funds for prizes, sign up do become a monthly donor (even $5 a month helps us thrive!), or just pay the registration fee! All are great ways to give financial support. As always, your PRESENCE at events and your PRAYERS are deeply appreciated!
We can't wait to see you August 31 at Vibrant Church!